THE AWARENESS CHALLENGE
Cybersecurity awareness can become boring if you indulge in traditional actions such as "posters" or emails with information, etc. One of the biggest challenges is providing people with an engaging experience that allows them to truly remember and assimilate new behaviors and safe habits.
Organizations increase their budget to raise awareness, but this does not mean that actions generate the necessary impact.
It is not about doing more, but about doing better.
We must INNOVATE TO RAISE AWARENESS.
THE GAME
A large company faces a serious security threat, you should be able to detect the most common threats. It starts with reviewing the web pages and deciding if they are safe or not. And the social networks? Identify if posts reveal sensitive information.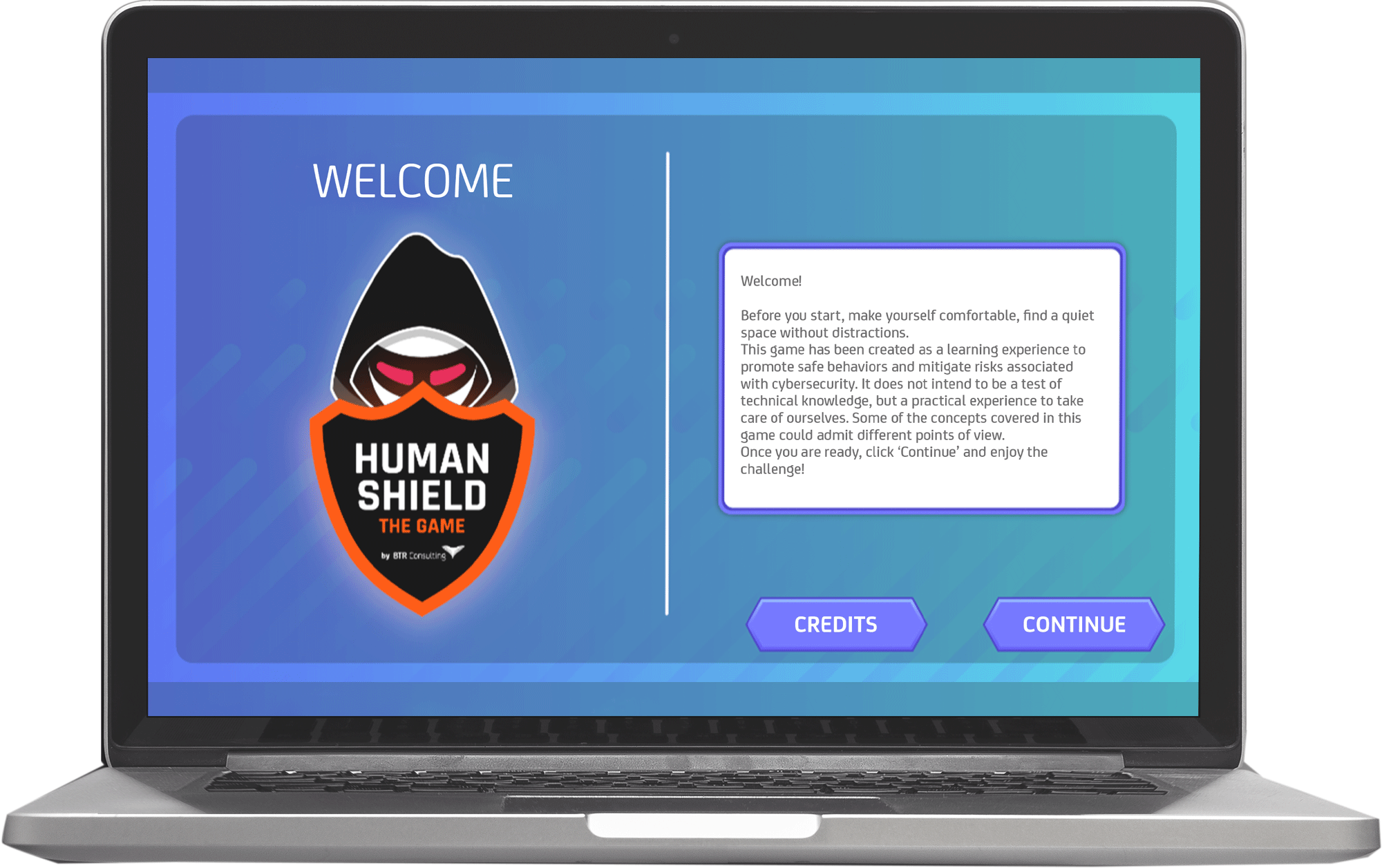 Oh no! Social networks have been attacked. You have to make sure to create a strong password in order to avoid further threats. Unfortunately, your Internet connection is down, but you have a lot of work to do. Try connecting to a new Wi-Fi, but be careful, there is no better entry than public Wi-Fi. Hackers will be able to infiltrate office computers to access everything employees are seeing and doing.
In this video game, 'Human Shield: the game' , the collaborator will learn techniques and tricks to protect himself and his organization from cyberattacks.
The player is the protagonist of a situation in which a major company faces a serious security threat, and must detect the most common threats.
The game missions cover the following topics:
Phishing through websites and use of email.

Password management.

Risks in the use of social networks.

Use of public WIFI networks.
The measurement of learning is based on how the user identifies "safe" or "unsafe" behaviors 8 situations are presented for each mission, with more than 50 decisions that the user must make throughout the game.
The duration of the game is approximately 15 minutes in an entertaining and friendly environment.